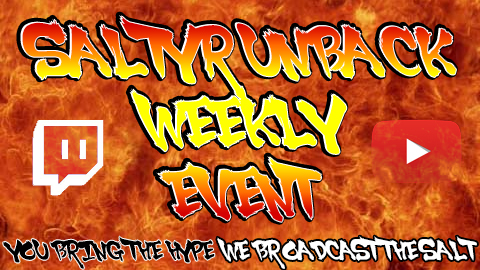 I want to get the ball rolling on saltyrunback events starting with a weekly endless lobby on SF4. We could stream to twitch and upload it to youtube.
Vote for which day you guys would prefer (you can vote for more than one day if you want) then we can work out a time that suits everyone. For now it will be best to have one lobby on 360. When we get more members it would be cool to have three, U.S. EU and a mixed lobby then eventually branch out to other platforms and games. A yearly Tournament would be the ultimate goal.
If your interested vote on a day and post your gamertag, location, game/s and platform and I'll add you to list below.
BazCrossbow
Location: UK
PSN Tag:  N/A
XBL Tag:  BazCrossbow
Xbox 360 Games: SF4,
XBox One Games: N/A
PS3 Games: N/A
PS4 Games: N/A
RetPetty
Location: USA
PSN Tag: N/A
XBL Tag:  RetPetty
Xbox 360 Games: SF4
XBox One Games: N/A
PS3 Games: N/A
PS4 Games: N/A
BreadWP
Location: USA
PSN Tag:  Breadwp
XBL Tag:  Breadwp SRK
Xbox 360 Games: SF4, UMVC3, Skull Girls, Injustice, Guilty Gear
XBox One Games: Killer Instinct
PS3 Games: SF4, UMVC3, BlazBlue CP, Skull Girls
PS4 Games: Injustice
Vita: Injustice, UMV3, SFxT, Guilty Gear, BlazeBlue CP
Last edited by BazCrossbow on Wed Apr 23, 2014 11:18 am; edited 5 times in total
_________________
Running water never grows stale. So you just have to keep on flowing. - Bruce Lee

Retpetty





BreadWP
Location: USA
PSN Tag:  Breadwp
XBL Tag:  Breadwp SRK

Xbox 360 Games: SF4, UMVC3, Skull Girls, Injustice, Guilty Gear
XBox One Games: Killer Instinct
PS3 Games: SF4, UMVC3, BlazBlue CP, Skull Girls
PS4 Games: Injustice
Vita: Injustice, UMV3, SFxT, Guilty Gear, BlazeBlue CP
looking like saturdays winning

Retpetty





eoteze
Location: USA
PSN Tag:  
XBL Tag:  eoteze

Xbox 360 Games: SF4, UMVC3


Similar topics
---
Permissions in this forum:
You
cannot
reply to topics in this forum